Our outside agent Wilma Wotten is currently organizing an incredible river cruise group to Russia in May 2020. Thinking of Russia, two great cities immediately come to mind: Moscow and St. Petersburg. This monumental 13-day itinerary includes multiple days in both cities, touring such landmarks as Moscow's Kremlin and Red Square as well as Catherine Palace in Pushkin and the Hermitage in St. Petersburg. But, there is another side of Russia—quaint Golden Ring towns like Yaroslavl and Uglich that only a river cruise can provide. See opulent palaces, discover fortified monasteries and visit beautiful cathedrals. It is an unforgettable way to experience the history and culture of this unique and mysterious country. Prices starting at $7474.00 including air if booked and paid in full by July 30th.
If you are interested in joining this group, please request a quote below and Wilma will touch base with more information!
13-day cruise with river-view stateroom
Scenic cruising along the Moscow Canal, Volga-Baltic Waterway, Lake Onega, Svir River, Lake Ladoga and the Neva River
10 guided tours with audio headset
Visit 4 UNESCO World Heritage Sites
Culture Curriculum: Enjoy onshore music and dance performances; learn a little Russian; listen to lectures about Romanov Tsars, the Soviet Union and current affairs; attend a Russian cooking workshop; and participate in Russian tea time
Wine/beer/soft drinks/ with lunch & dinner on board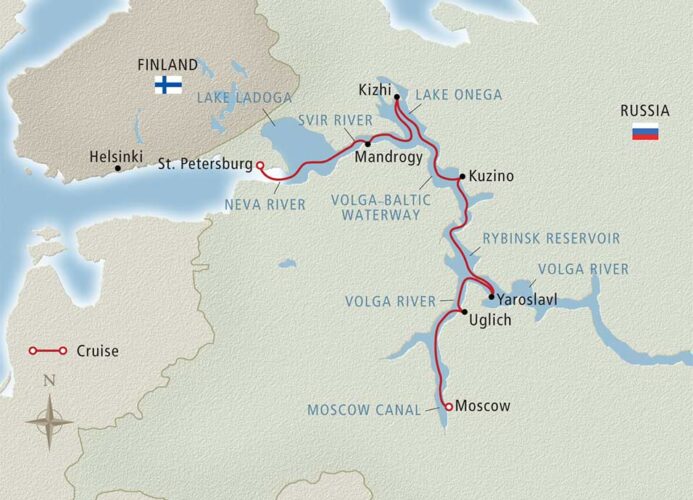 | | | | | |
| --- | --- | --- | --- | --- |
| | | Moscow, Russia | The crenellated red brick walls of Moscow's Kremlin surround many towers, cathedrals and palaces. |   |
| | | Moscow, Russia | The immense scale of Moscow, a major cultural and economic metropolis as well as Russia's pulsing political center, is breathtaking. |   |
| | | Moscow, Russia | Majestic Moscow, one of the world's greenest cities, decorates even its subway stations lavishly with art and magnificent chandeliers. |   |
| | | Moscow, Russia | A metropolis of grand boulevards, regal monuments and onion-domed cathedrals, by night Moscow masterfully illuminates its landmarks. |   |
| | | Uglich, Russia | Founded in 1148 along the Volga River, Uglich is a magnificent city to behold from the river. |   |
| | | Yaroslavl, Russia | Stretching 18 miles along both banks of the Volga amidst a region of forests, Yaroslavl was founded in 1010 by Prince Yaroslav the Wise of Kiev. |   |
| | | Kuzino, Russia | Kuzino's renowned Kirillo-Belozersky Monastery was founded by Saint Cyril in 1397. |   |
| | | Kizhi, Russia | Situated at the north end of Lake Onega, Kizhi Island is home to the famed Open Air Museum of Architecture. |   |
| | | Mandrogy, Russia | Reconstructed as an open air museum, Mandrogy keeps the traditions of Russian villages alive. |   |
| | | St. Petersburg, Russia | Russia's second largest city, St. Petersburg has been called "Venice of the North" for its many islands, canals and bridges. |   |
| | | St. Petersburg, Russia | Inspired by Europe's cultural capitals, St. Petersburg is Russia's most Western city. |   |
| | | St. Petersburg, Russia | St. Petersburg is graced by grand boulevards, a lacework of canals, baroque buildings, resplendent palaces and dazzling onion-domed churches. |   |
| | | St. Petersburg, Russia | Priceless art and world-class ballet elevate St. Petersburg more than its founder, Peter the Great, could have dreamed. |   |
* Itinerary and shore excursions are subject to change and may vary by departure.
Fill out the form below and one of our travel advisors will get in touch with you!