14 DAY IRISH & SCOTTISH ADVENTURE
ROTTERDAM, NETHERLANDS ROUND TRIP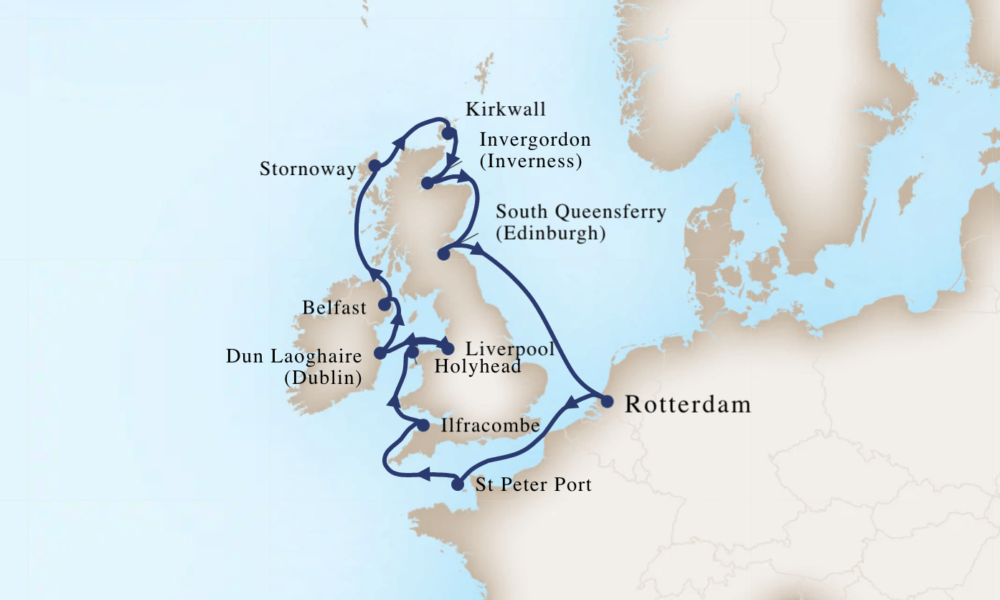 Join Kemp Travel's Susan Johnson on a two week cruise with Holland America. Start and finish in Rotterdam, The Netherlands' second-largest city and Europe's busiest port. Once you set sail, explore the gems of Ireland, England, Wales Scotland and more in between. Imposing castles and rolling green hillsides guide your way around the United Kingdom and Ireland.  Explore the Highlands, the wildest and least trammelled region in the entire United Kingdom. Included is a Private Cocktail party & an Ensemble Experience (complimentary Shore Excursion) in Belfast.
We have Ensemble Exclusive pricing for this departure starting at $3960.00 CAD per person, taxes included based on double occupancy for an inside cabin. All prices are subject to change and availability. Airfare is NOT included in this price. Until Dec 3, 2019 pricing includes a Signature Beverage Package and a complimentary Pinnacle Grill Dinner.
Please contact Sue at 905-987-4647 or s.johnson@kemptravel.ca for a quote.
DAY 1 – Rotterdam, The Netherlands  (Embark)
DAY 3 – St Peter Port, Guernsey

DAY 4 – Ilfracombe, England, UK
DAY 5 – Holyhead, Wales, UK
DAY 6 – Liverpool, England, UK
DAY 7 – Dun Laoghaire (Dublin), Ireland
DAY 8 – Belfast, Northern Ireland, UK

DAY 9 – Day At Sea
DAY 10 – Stornoway, Isle Of Lewis, Scotland, UK
DAY 11 – Kirkwall, Scotland, UK
DAY 12 – Invergordon (Inverness), Scotland, UK
DAY 13 – South Queensferry (Edinburgh), Scotland, UK
DAY 14 – Day At Sea
DAY 15 – Rotterdam, The Netherlands (Disembark) 
Fill out the form below and Susan will get in touch with you with more information!